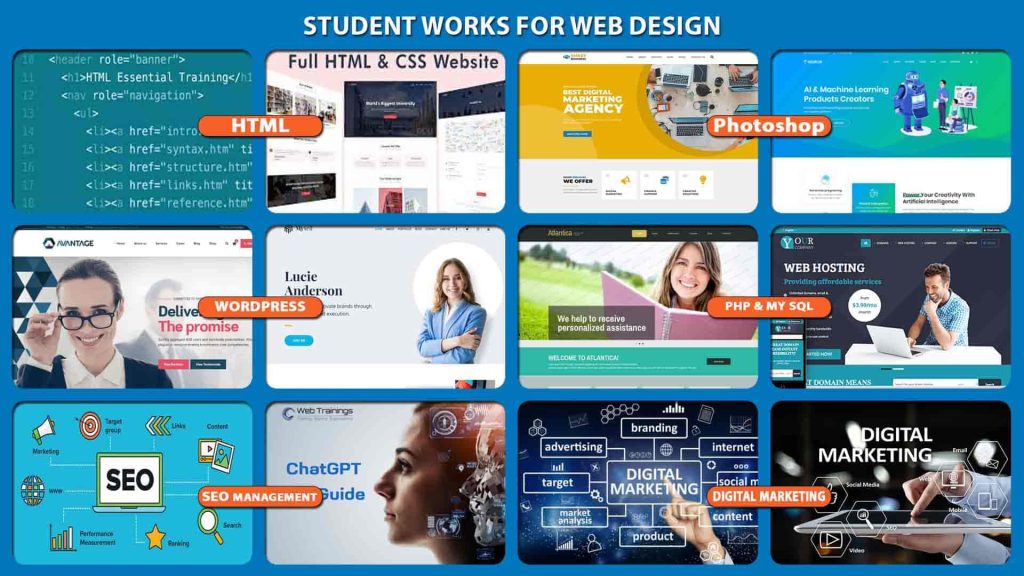 Web Design
 Looking for Basic and Advanced Web Designing courses in Bhubaneswar? CADCAM Academy offers professional web design courses that will enhance your skills and take your career to the next level. Enroll now!
CADCAM Academy is one of the best web design institutes in Bhubaneswar, Odisha offering Basic and Advanced Web Designing courses. We provide students with a comprehensive syllabus that is designed to teach them the skills that they need to become successful web designers.
Our courses are taught by expert faculty members who are passionate about teaching and have deep expertise in the field of web designing. They will guide you through every aspect of web designing, from understanding the basics of HTML and CSS to the more advanced concepts like JavaScript, Bootstrap and jQuery.
At CADCAM Academy, we believe in providing our students with a hands-on learning experience. We have a well-equipped computer lab where our students get to practice what they learn in the classroom. We also have a state-of-the-art library where students can find reference materials on web designing and related topics.
Our Basic Web Designing course is perfect for beginners who want to learn the fundamentals of web designing. In this course, we cover topics like HTML, CSS, Photoshop, and Responsive Web Design. Students will learn how to create a basic website and customize it to meet their needs.
The Advanced Web Designing course is designed for students who have some experience in web designing and want to take their skills to the next level. In this course, we cover topics like JavaScript, Bootstrap, jQuery, WordPress, and PHP. Students will learn how to create dynamic websites and web applications that are interactive and engaging.
Apart from our Basic and Advanced Web Designing courses, we also offer specialized courses like UI/UX Designing, Digital Marketing, and Graphic Designing. These courses are designed to help students develop additional skills that are essential for a successful career in web designing.
At CADCAM Academy, we believe in providing our students with the best possible training and support. We have a team of dedicated counselors who will help you choose the right course based on your interests and career goals. We also provide job placement assistance to our students to help them kick start their careers in web designing.
In conclusion, CADCAM Academy is the best place to learn web designing in Bhubaneswar, Odisha. Our courses are designed to provide you with a comprehensive understanding of web designing and prepare you for a successful career in this exciting field. So, enroll now and take the first step towards your dream career in web designing!
Web Design Course Syllabus – CADCAM Academy
 Course Overview
This course is designed to introduce students to basic web design skills and concepts, including HTML, CSS, and JavaScript. Students will learn how to create and manage websites using popular web design tools, and will gain an understanding of web design best practices.
Course Objectives
By the end of this course, students will be able to:
– Understand the basics of HTML, CSS, and JavaScript
– Create and modify websites using popular web design tools
– Design websites that are responsive and accessible
– Test and debug websites to ensure they are functioning properly
– Implement web design best practices
Course Outline
1. Introduction to Web Design
– What is Web Design?
– The history of web design
– The current state of web design
2. HTML Basics
– What is HTML?
– Semantic markup
– Creating HTML documents
– Adding images and links
3. CSS Basics
– What is CSS?
– Adding styles to HTML documents
– CSS layout and positioning
– Responsive design
4. JavaScript Basics
– What is JavaScript?
– Adding functionality to a website
– Creating interactive elements
– Debugging JavaScript
5. Popular Web Design Tools
– Adobe Photoshop and Illustrator
– Sketch
– Figma
6. Principles of Web Design
– Color theory
– Typography
– Layout and composition
– Accessibility
7. Web Design Best Practices
– Writing clean, maintainable code
– Testing and debugging websites
– Deploying websites
– Continuous learning and improvement
Course Requirements
– Personal computer or laptop with internet access
– Text editor software such as Atom, Sublime Text, or Visual Studio Code
– Basic understanding of computer fundamentals and file management
– Willingness to learn and practice new concepts on a regular basis
Course Duration
This course has a duration of 36 hours, which can be completed in 12 weeks with 3 hours of lectures per week.