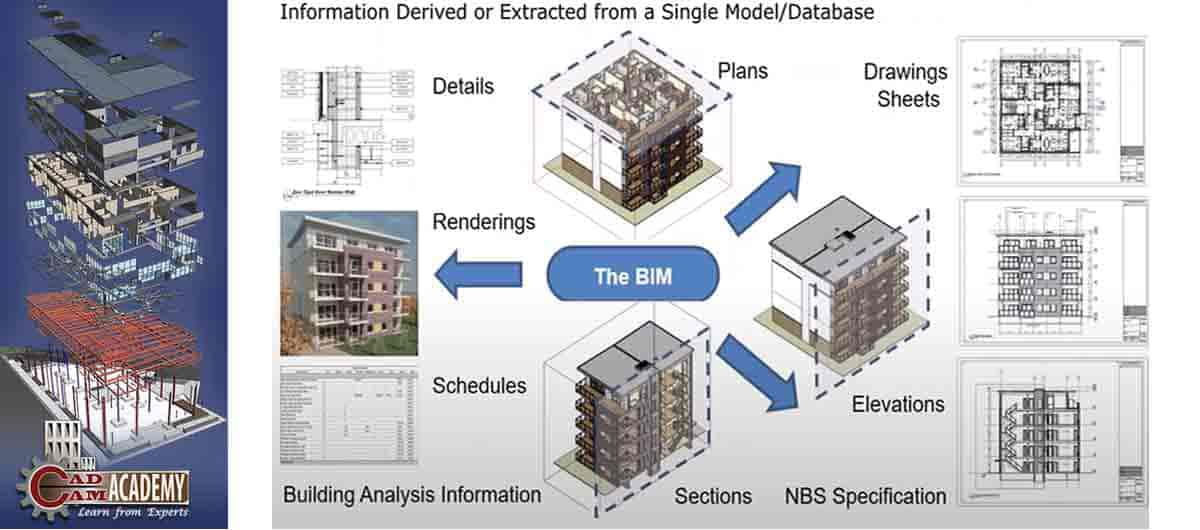 BIM Technology: Shaping the Future of Architectural Design
BIM Technology: Shaping the Future of Architectural Design
In the ever-evolving world of architecture and construction, staying ahead of the curve is imperative. As we advance into the digital age, the role of technology in architectural design becomes increasingly prominent. One such technological innovation that has revolutionized the field is Building Information Modeling (BIM). BIM technology is not just a trend; it's the future of architectural design. In this article, we will explore how BIM technology is shaping the future of architectural design and how CADCAM Academy, a leading institute in Bhubaneswar, Odisha, is at the forefront of providing comprehensive BIM courses.
Understanding BIM Technology
Before delving into its impact on architectural design, let's grasp the essence of BIM technology. Building Information Modeling is a process that involves creating digital representations of a building's physical and functional characteristics. It goes beyond traditional 2D drawings and introduces a 3D model that includes data about every element of the building – from its structure and materials to its systems and components.
Why is BIM Technology Crucial for Future Architecture?
1. Enhanced Collaboration: BIM fosters collaboration among architects, engineers, contractors, and other stakeholders in the construction process. It allows for real-time sharing of information and ensures everyone is on the same page, reducing errors and conflicts.
2. Improved Efficiency: BIM streamlines workflows, making project management more efficient. It helps in identifying clashes and conflicts in the design phase, saving both time and money during construction.
3. Sustainable Design: BIM technology facilitates sustainable design by analyzing energy consumption and environmental impact. Architects can make informed decisions to create eco-friendly buildings.
4. Cost Reduction: With accurate cost estimations and resource management, BIM can significantly reduce project costs.
5. Future-Proofing Design: BIM allows architects to future-proof their designs by integrating smart technologies and adaptability into the model.
CADCAM Academy: Your Gateway to BIM Expertise
Located in the heart of Bhubaneswar, CADCAM Academy is a renowned institute that offers comprehensive BIM courses. As a pioneer in CAD, CAM, BIM, GIS, and PPM training, CADCAM Academy is committed to shaping the future of architectural design through BIM technology. Here's why it should be your choice for BIM education:
1. Expert Faculty: CADCAM Academy boasts a team of experienced instructors who are well-versed in BIM technology. They provide hands-on training and real-world insights to equip students with practical skills.
2. Cutting-Edge Curriculum: The institute's BIM courses are designed to cover the latest industry trends and software tools. Students learn how to create detailed 3D models, conduct clash detection, and optimize building performance.
3. Industry-Relevant Software: CADCAM Academy provides access to industry-standard BIM software such as Autodesk Revit, Navisworks, and more. This ensures that students are proficient in the tools used by professionals.
4. Project-Based Learning: Practicality is key in BIM education. CADCAM Academy emphasizes project-based learning, enabling students to apply their skills to real-world scenarios.
5. Placement Assistance: The institute offers placement assistance to help graduates kickstart their careers in architecture and construction firms.
BIM Technology in Action: Realizing Future Architectural Visions
Imagine designing a sustainable skyscraper that generates its own energy, adapts to changing environmental conditions, and provides a safe and comfortable environment for its occupants. This is the power of BIM technology. With BIM, architects can visualize their designs in 3D, analyze their performance, and make data-driven decisions that lead to groundbreaking structures.
Moreover, BIM technology is not limited to just the design phase. It continues to be a valuable asset throughout the building's lifecycle – from construction and maintenance to renovations and demolitions. This ensures that the building remains efficient and relevant for decades to come.
Conclusion
In conclusion, BIM technology is undeniably the future of architectural design. It's a game-changer that enhances collaboration, efficiency, sustainability, and cost-effectiveness in the construction industry. To stay ahead in this dynamic field, it's crucial to equip yourself with the right knowledge and skills.
CADCAM Academy in Bhubaneswar, Odisha, stands as a beacon of excellence in BIM education. With expert faculty, cutting-edge curriculum, industry-standard software, and a commitment to practical learning, it prepares students to be the architects of the future. If you aspire to be part of the architectural revolution, CADCAM Academy is your gateway to success.
Embrace BIM technology, shape the future of architectural design, and let CADCAM Academy guide you on this transformative journey.
---
Feel free to make any necessary adjustments to this article to align it with your institute's specific offerings and messaging.
cadcam_pageuser
DESCRIPTION - Discover CAD-CAM-BIM Institute in Bhubaneswar,Odisha offer Autocad,staadpro,revit,sketchup,3dsmax,lumion,primavera,civil3D,arcgis,Qgis,catia,creo,solidworks,Ansys,MSP.Enrol Now! "Learn From Experts"