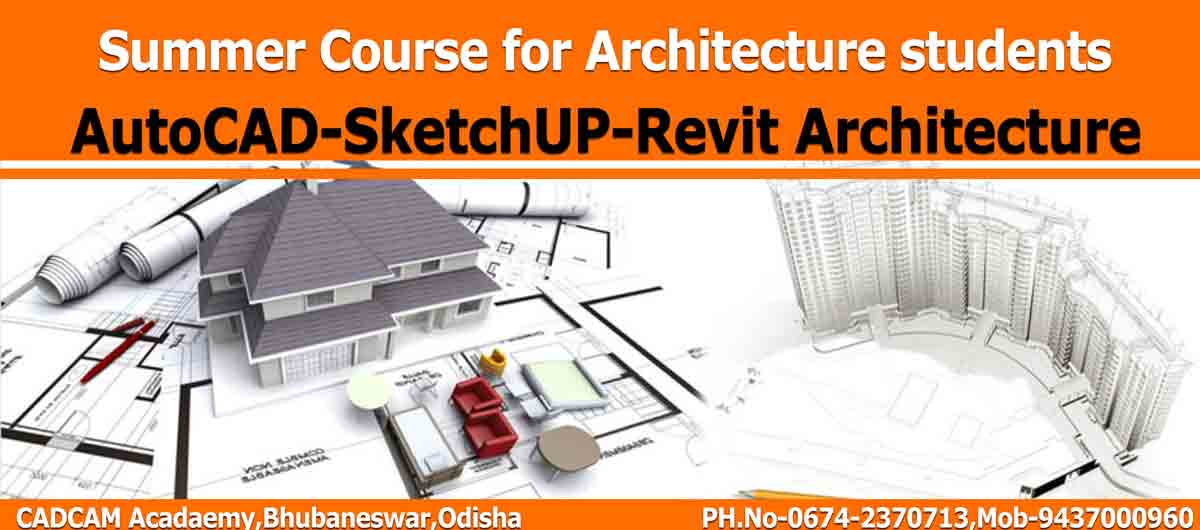 Creating Architectural Marvels: Summer Course in AutoCAD, Sketchup, and Revit
Are you passionate about architectural design? Do you aspire to create stunning 3D models and bring your architectural visions to life? If so, CADCAM Academy in Revit Architecture, Odisha, has the perfect opportunity for you this summer! Our Architectural 3D Design summer course is designed to help you master the essential software tools of AutoCAD for Architecture, Sketchup Vray, and Revit Architecture. Let's dive into the details of this exciting and enriching program.
Your Gateway to Architectural Excellence
At CADCAM Academy, we understand the significance of skill development and hands-on experience in the field of architecture. That's why we have meticulously crafted this summer course to cater to aspiring architects, designers, and students who wish to enhance their proficiency in 3D modeling and architectural visualization.
Mastering AutoCAD for Architecture
The first component of our summer course focuses on AutoCAD for Architecture, a widely used software in the architectural and construction industries. AutoCAD is renowned for its precision and efficiency in creating architectural drawings, floor plans, and 3D models. During this part of the course, you will:
Learn the Basics: Our expert instructors will guide you through the fundamental concepts of AutoCAD, ensuring that you have a strong foundation in architectural drafting.
3D Modeling: Dive into the world of 3D modeling with AutoCAD, where you'll create intricate architectural designs with precision.
Architectural Drawings: Explore the art of creating detailed architectural drawings, elevations, and sections that are crucial for effective communication in the field.
By the end of the AutoCAD for Architecture segment, you'll be equipped with the skills to design, draft, and visualize architectural projects confidently.
Sketchup Vray Demystified
The second part of our summer course introduces you to Sketchup Vray, a powerful rendering tool that takes your architectural designs to the next level. Sketchup Vray is renowned for its photorealistic rendering capabilities, making your 3D models come alive with stunning visuals. In this segment, you'll:
Vray Essentials: Dive into the essentials of Vray, learning how to create realistic materials, lighting, and camera setups for your architectural scenes.
Rendering Mastery: Explore advanced rendering techniques that will transform your 3D models into lifelike architectural visualizations.
Interior Design: Discover how to use Sketchup Vray to create captivating interior scenes and presentations.
By the end of this part of the course, you'll have the skills to breathe life into your architectural designs and present them in a visually compelling manner.
Revit Architecture Unleashed
The final component of our summer course focuses on Revit Architecture, an industry-standard BIM (Building Information Modeling) software. Revit is known for its ability to streamline the architectural design and documentation process. During this segment, you will:
BIM Fundamentals: Gain an understanding of BIM principles and how they revolutionize the architectural design process.
Revit Tools: Explore the features and tools within Revit Architecture that allow you to create comprehensive 3D models and construction documentation.
Collaboration: Learn how Revit facilitates collaboration among architects, engineers, and construction professionals, ensuring seamless project execution.
Upon completion of the Revit Architecture portion, you'll be proficient in using BIM technology to design and document architectural projects efficiently.
Learn from Experts in Architectural Visualization
One of the unique aspects of our summer course is the opportunity to learn from industry experts in the field of architectural visualization. Our instructors bring years of experience and a deep understanding of the software tools to the classroom. They will not only teach you the technical aspects but also provide insights into real-world architectural projects and trends.
Why Choose CADCAM Academy?
Comprehensive Curriculum: Our summer course covers all the essential aspects of AutoCAD for Architecture, Sketchup Vray, and Revit Architecture, ensuring you receive a holistic education in architectural 3D design.
Hands-on Training: We believe in learning by doing. You'll have ample opportunities to apply what you've learned through practical exercises and projects.
State-of-the-Art Facilities: CADCAM Academy is equipped with modern computer labs and software resources, providing you with the best learning environment.
Industry-Relevant Certification: Upon successful completion of the course, you'll receive a certificate that is recognized in the architectural and construction industries.
Enroll Today and Transform Your Architectural Career
Don't miss this opportunity to enhance your architectural skills and open up new career avenues. Our Architectural 3D Design summer course at CADCAM Academy is your stepping stone to becoming a proficient architect and 3D designer.
Enroll today to secure your spot in this exciting program and take the first step towards a successful career in architectural design. Whether you're a student looking to build a strong foundation or a professional aiming to sharpen your skills, our course is tailored to meet your needs.
Conclusion
In the ever-evolving field of architecture, staying ahead of the curve is essential. The Architectural 3D Design summer course at CADCAM Academy in Revit Architecture, Odisha, is designed to empower you with the knowledge and skills you need to excel in this dynamic industry. With a focus on AutoCAD for Architecture, Sketchup Vray, and Revit Architecture, our course ensures that you're well-prepared to create stunning architectural designs and take your career to new heights. Enroll today and embark on a journey towards architectural excellence!
cadcam_pageuser
DESCRIPTION - Discover CAD-CAM-BIM Institute in Bhubaneswar,Odisha offer Autocad,staadpro,revit,sketchup,3dsmax,lumion,primavera,civil3D,arcgis,Qgis,catia,creo,solidworks,Ansys,MSP.Enrol Now! "Learn From Experts"