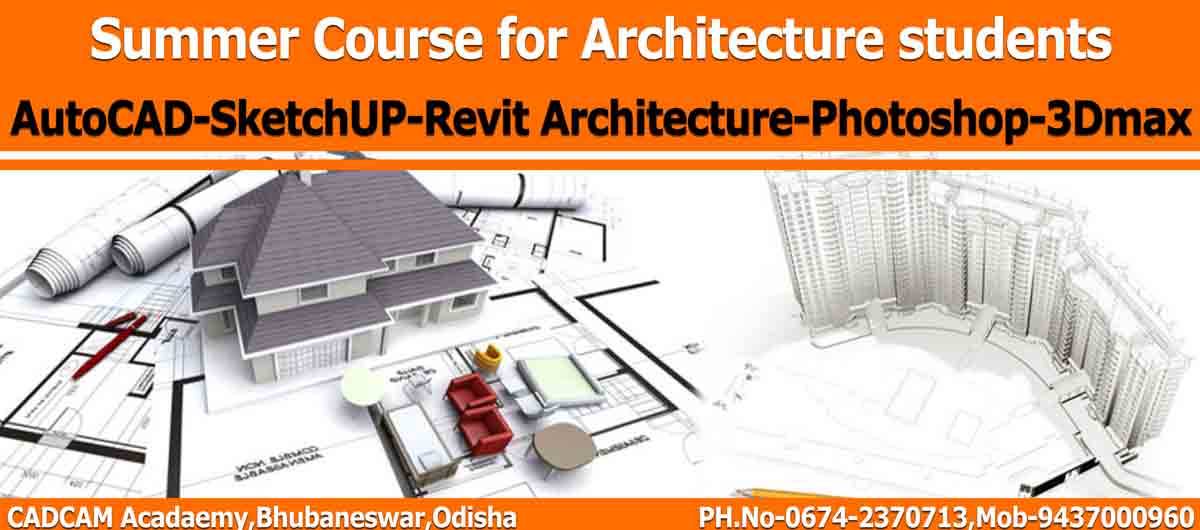 Mastering Architectural 3D Design: Join Our Summer Course in Autocad, Photoshop, 3Ds Max Vray, Sketchup Vray, and Revit Architecture
Are you passionate about architecture and design? Do you dream of creating stunning 3D models and visualizations that bring architectural concepts to life? If so, CADCAM Academy's Architectural 3D Design Summer Course in Bhubaneswar, Odisha, is your gateway to realizing those dreams. In this blog post, we will delve into the details of this comprehensive summer course, designed to help you become proficient in industry-standard software tools such as Autocad for Architecture, Photoshop, 3Ds Max Vray, Sketchup Vray, and Revit Architecture. Let's embark on a journey to discover how you can elevate your architectural 3D design skills and learn from experts in the field.
Why Architectural 3D Design Matters
Architectural 3D design is a crucial aspect of modern architecture and construction. It allows architects, designers, and engineers to create immersive visualizations and detailed models of building projects. These visualizations are not only aesthetically pleasing but also serve practical purposes such as conveying design ideas to clients, simulating real-world scenarios, and aiding in the construction process.
The Summer Course at CADCAM Academy
Our Architectural 3D Design Summer Course is a comprehensive program designed to equip you with the skills and knowledge needed to excel in the world of architectural visualization. Whether you are a beginner looking to kickstart your career or a professional seeking to upgrade your skills, this course is tailored to meet your needs.
Course Highlights:
Autocad for Architecture: Gain expertise in the industry-standard software for drafting and designing architectural plans. Learn to create precise 2D and 3D drawings, ensuring accuracy in your architectural projects.
Photoshop: Master the art of post-processing and rendering to enhance the visual appeal of your architectural designs. Photoshop is an essential tool for refining and beautifying your creations.
3Ds Max Vray: Explore the world of 3D modeling and rendering with 3Ds Max Vray. Create lifelike visualizations that bring your architectural designs to life, complete with realistic lighting and materials.
Sketchup Vray: Sketchup is renowned for its ease of use in 3D modeling. With Vray integration, you'll learn how to create stunning and interactive 3D models that can be explored from every angle.
Revit Architecture: Discover the power of Building Information Modeling (BIM) with Revit Architecture. Streamline your design and documentation processes while collaborating seamlessly with other professionals in the industry.
Learn from Experts in Architectural Visualization
At CADCAM Academy, we understand the importance of learning from industry experts. Our course instructors are seasoned professionals with years of experience in architectural visualization. They bring real-world insights and practical knowledge to the classroom, ensuring that you not only understand the software but also how to apply it effectively in architectural projects.
Course Curriculum
Our comprehensive curriculum covers the following key areas:
Introduction to Architectural 3D Design: Understand the fundamentals of architectural 3D design, its applications, and its significance in the industry.
Autocad for Architecture: Dive deep into Autocad and learn to create architectural drawings, floor plans, elevations, and more.
Photoshop for Architects: Explore the creative side of architecture by mastering Photoshop for rendering and post-processing.
3D Modeling with 3Ds Max: Learn to create 3D models and visualizations using 3Ds Max, complete with Vray rendering for realism.
Interactive Modeling with Sketchup: Develop interactive 3D models that can be presented to clients and stakeholders using Sketchup Vray.
Building Information Modeling (BIM) with Revit: Discover the power of Revit Architecture for BIM and its role in modern architectural projects.
Hands-on Training and Projects
Our course is not just theory-based; it's hands-on and project-driven. You will have the opportunity to work on real architectural projects, applying the knowledge you gain throughout the course. This practical experience will not only boost your confidence but also create a compelling portfolio that showcases your skills to potential employers or clients.
Why Choose CADCAM Academy
Industry-Relevant Skills: Our course is meticulously crafted to ensure that you acquire the skills and knowledge currently in demand in the architectural industry.
Expert Instructors: Learn from experienced professionals who are passionate about sharing their expertise and helping you succeed.
State-of-the-Art Facilities: Train in a modern and well-equipped learning environment that mirrors real-world architectural design studios.
Networking Opportunities: Connect with fellow students, instructors, and industry professionals to expand your professional network.
Career Support: We offer career guidance and support to help you kickstart your career in architectural 3D design.
Conclusion
If you aspire to become a proficient architectural 3D designer and want to master software like Autocad for Architecture, Photoshop, 3Ds Max Vray, Sketchup Vray, and Revit Architecture, our summer course at CADCAM Academy in Bhubaneswar, Odisha, is the perfect choice. Elevate your skills, boost your career prospects, and embark on a journey towards architectural excellence. Enroll today and take the first step towards becoming a sought-after architectural visualization expert. Don't miss this opportunity to shape your future in architectural 3D design!
cadcam_pageuser
DESCRIPTION - Discover CAD-CAM-BIM Institute in Bhubaneswar,Odisha offer Autocad,staadpro,revit,sketchup,3dsmax,lumion,primavera,civil3D,arcgis,Qgis,catia,creo,solidworks,Ansys,MSP.Enrol Now! "Learn From Experts"