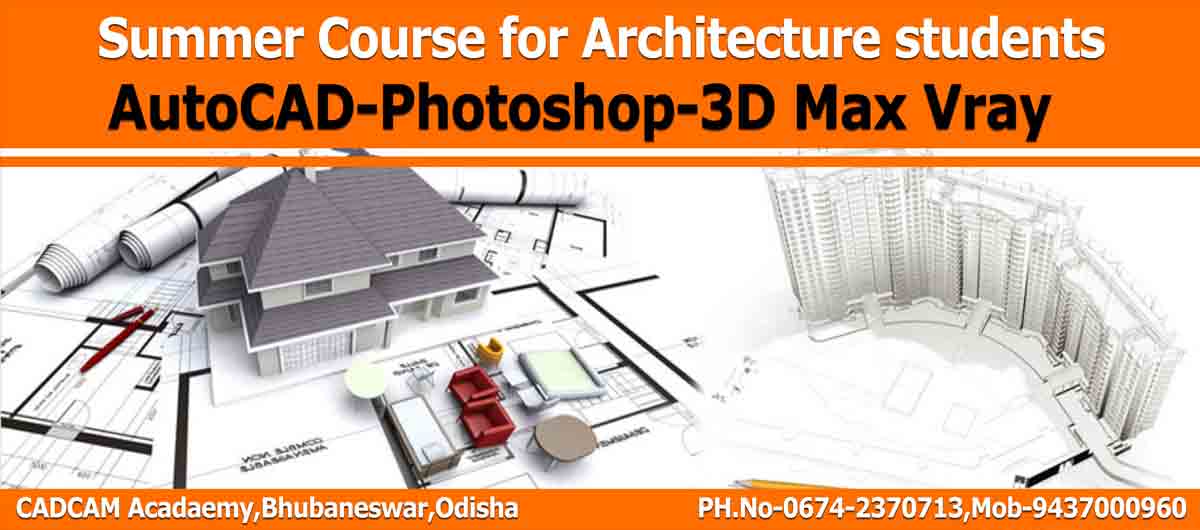 Designing the Future: Architectural 3D design Courses at CADCAM Academy
In the fast-paced world of architecture and design, staying at the forefront of technological advancements is paramount. The ability to envision and craft architectural marvels in 3D has become not just an advantage but a necessity. This is where Architectural 3D design Courses at CADCAM Academy come into play, offering expertise in AutoCAD Design Detailing, Photoshop Rendering, and 3ds Max Vray Rendering, and the opportunity to learn from experts in architectural visualization.
Why Architectural 3D design Matters
Architectural 3D design has revolutionized the way architects and designers bring their ideas to life. Gone are the days of relying solely on 2D blueprints; 3D modeling is now an integral part of the design process. It allows professionals to create immersive, photorealistic visualizations of their projects, making it easier to communicate ideas, make informed decisions, and present designs to clients and stakeholders.
CADCAM Academy: Your Gateway to Excellence
CADCAM Academy, located in the vibrant city of Bhubaneswar, Odisha, is your gateway to excellence in architectural 3D design. Our institute offers a comprehensive range of Architectural 3D design Courses, with a special focus on AutoCAD Design Detailing, Photoshop Rendering, and 3ds Max Vray Rendering. Here's why you should consider us for your Architectural 3D design education:
1. Learn from Experts in Architectural Visualization
Our courses are led by industry experts with years of experience in architectural visualization. They bring real-world knowledge to the classroom, ensuring that you receive practical insights that go beyond theoretical concepts. Learning from these professionals is an invaluable opportunity to gain insights into the industry's best practices.
2. Master AutoCAD Design Detailing
AutoCAD is the cornerstone of architectural design, and we ensure you master it. Our curriculum covers AutoCAD in-depth, teaching you the intricacies of design detailing, drafting, and 2D to 3D conversion. This software proficiency is crucial for precise and accurate architectural drawings.
3. Elevate Your Designs with Photoshop Rendering
In our courses, you will delve into the world of Photoshop Rendering. Photoshop is a powerful tool for enhancing and beautifying architectural visuals. You'll learn how to add textures, manipulate lighting, and create stunning visualizations that captivate clients and elevate your design presentations.
4. Achieve Realism with 3ds Max Vray Rendering
When it comes to achieving photorealism, 3Ds Max with V-Ray is the go-to software for architects and designers. Our comprehensive training will empower you to create realistic 3D renderings that showcase every detail of your designs. From lighting and materials to camera angles and post-production, you'll master it all.
5. Project-Based Learning
Theory alone won't make you a proficient 3D designer. That's why our courses emphasize project-based learning. You'll have the opportunity to work on real-world architectural projects, giving you hands-on experience and building a portfolio that speaks volumes to potential employers.
6. Flexible Learning Options
We understand that our students have diverse schedules and commitments. To accommodate your needs, we offer flexible class timings, including evening and weekend batches. Your education can fit seamlessly into your busy life.
7. Career Support and Networking
Our commitment to your success extends beyond the classroom. We provide career guidance, job placement assistance, and access to a network of industry professionals. This ensures you're well-prepared to embark on a rewarding career in architectural 3D design.
The Journey of Learning Architectural 3D Design
Enrolling in Architectural 3D design Courses at CADCAM Academy is more than just education; it's a journey of creativity, exploration, and growth. Here's what you can expect:
Fundamentals of 3D Modeling: Begin your journey by mastering the fundamentals of 3D modeling. You'll learn how to create 3D models of buildings, interiors, and landscapes, laying the foundation for more advanced techniques.
Software Mastery: Dive deep into AutoCAD, Photoshop, and 3ds Max with V-Ray. Gain hands-on experience in using these powerful tools to create stunning architectural visualizations.
Design Principles: Understand core principles of architectural design, including space planning, lighting, and material selection. These principles are essential for creating aesthetically pleasing and functional designs.
Advanced Visualization Techniques: Take your skills to the next level by learning advanced rendering techniques. Create photorealistic images and immersive 3D walkthroughs that leave a lasting impression.
Portfolio Development: Throughout your course, build a comprehensive portfolio that showcases your best work. A strong portfolio is your ticket to a successful career in architectural 3D design.
Industry Insights: Benefit from guest lectures, workshops, and site visits that expose you to the latest trends and technologies in the architecture and design industry.
Certification: Upon successful completion of your course, you'll receive a certification from CADCAM Academy. This certification is a testament to your skills and expertise in architectural 3D design.
Join the Future of Architecture
In a world where visual communication is paramount, architects and designers who can harness the power of 3D modeling and rendering are in high demand. By enrolling in Architectural 3D design Courses at CADCAM Academy, you're not just investing in your education; you're investing in your future.
Don't miss the opportunity to be a part of the revolution in architectural design. Design the future with us at CADCAM Academy and embark on a fulfilling career that blends creativity and technology seamlessly.
Conclusion
Architectural 3D design is not just a course; it's a journey that leads to a world of possibilities in the field of architecture and design. CADCAM Academy in Bhubaneswar, Odisha, is your trusted partner in this journey, offering expert guidance, state-of-the-art facilities, and a supportive community of learners.
If you're ready to shape the future of architectural design and become proficient in AutoCAD Design Detailing, Photoshop Rendering, and 3ds Max Vray Rendering, enroll in our Architectural 3D design Courses today. Your dreams of creating breathtaking 3D visualizations and contributing to the built environment are just a click away. Join us at CADCAM Academy, and let's design the future together.
cadcam_pageuser
DESCRIPTION - Discover CAD-CAM-BIM Institute in Bhubaneswar,Odisha offer Autocad,staadpro,revit,sketchup,3dsmax,lumion,primavera,civil3D,arcgis,Qgis,catia,creo,solidworks,Ansys,MSP.Enrol Now! "Learn From Experts"