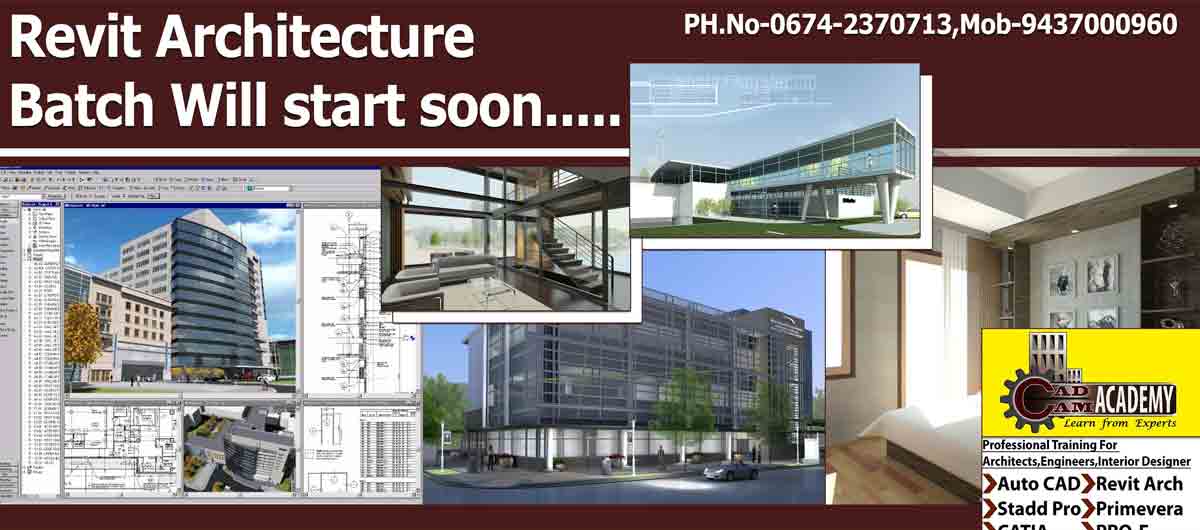 Revit Architecture Course in Odisha: Your Gateway to Modern Design
Are you an aspiring architect or a design enthusiast looking to take your skills to the next level? If so, you've come to the right place. CADCAM Academy, located in the heart of Odisha, is here to offer you a transformative learning experience in the world of architecture with our comprehensive Revit Architecture Course. In this blog post, we'll explore how our institute can be your gateway to modern design and architectural excellence.
Why Revit Architecture?
Before delving into the details of our course, let's understand why Revit Architecture is a must-learn software for anyone in the field of architecture and design. Revit is a Building Information Modeling (BIM) software that allows architects and designers to create detailed 3D models of buildings, which can be used for planning, design, construction, and maintenance. It's an industry-standard tool that streamlines the entire architectural process, from concept to completion.
Why Choose CADCAM Academy?
Experienced Instructors: At CADCAM Academy, we believe that learning is most effective when it's imparted by experienced professionals. Our instructors are seasoned architects and experts in Revit Architecture, ensuring that you receive top-notch training.
Comprehensive Curriculum: Our Revit Architecture Course is designed to cover all aspects of the software, starting from the fundamentals to advanced techniques. Whether you're a beginner or looking to enhance your skills, our course has you covered.
Hands-On Training: We understand the importance of practical knowledge. That's why our course emphasizes hands-on training. You'll work on real-world projects and gain practical experience that is invaluable in the field.
State-of-the-Art Facilities: CADCAM Academy boasts state-of-the-art facilities equipped with the latest hardware and software. You'll have access to cutting-edge technology to enhance your learning experience.
Flexible Schedules: We offer flexible schedules to accommodate both working professionals and students. You can choose from various batch timings that suit your convenience.
What You'll Learn
Our Revit Architecture Course covers a wide range of topics to ensure you're well-prepared for the challenges of modern architectural design. Here are some of the key areas we'll focus on:
Introduction to Revit Architecture: Get familiar with the software interface and basic tools.
Creating 3D Models: Learn how to create detailed 3D models of buildings and structures.
Design Development: Understand the design development process using Revit, including site analysis and conceptual design.
Collaboration: Discover how to collaborate with other professionals and share your designs seamlessly.
Construction Documents: Master the creation of construction documents, including plans, sections, and elevations.
Visualization: Explore how to enhance your designs with realistic rendering and visualization techniques.
BIM Workflow: Understand the BIM workflow and its importance in modern architecture.
Why Revit Architecture Training is Essential
In today's competitive architectural landscape, proficiency in Revit Architecture is no longer optional—it's a necessity. Here's why:
Increased Efficiency: Revit streamlines the design and documentation process, allowing architects to work faster and more efficiently.
Accurate Designs: With Revit, you can create highly accurate 3D models, reducing errors and minimizing costly revisions during construction.
Better Collaboration: Revit facilitates collaboration among architects, engineers, and contractors, leading to smoother project execution.
Career Advancement: Having Revit skills on your resume opens up new career opportunities and can lead to higher-paying positions.
Stay Competitive: To stay competitive in the industry, architects must keep up with the latest technologies, and Revit is at the forefront of modern design tools.
Enroll Today!
Ready to embark on your journey to becoming a skilled architect with expertise in Revit Architecture? Enroll in our upcoming batch at CADCAM Academy in Bhubaneswar, Odisha, and take the first step towards a rewarding career in modern design.
Don't miss out on this opportunity to enhance your skills and become a part of the architectural revolution. Join CADCAM Academy and unleash your creativity in the world of modern design.
Contact us today to learn more about course details, fees, and enrollment options. Your gateway to modern design starts here at CADCAM Academy in Odisha!
---
Feel free to customize this article further as needed for your blog. It provides a comprehensive overview of your institute's Revit Architecture Course while incorporating the focus keyword "Revit Architecture Training Institute" naturally throughout the content.
cadcam_pageuser
DESCRIPTION - Discover CAD-CAM-BIM Institute in Bhubaneswar,Odisha offer Autocad,staadpro,revit,sketchup,3dsmax,lumion,primavera,civil3D,arcgis,Qgis,catia,creo,solidworks,Ansys,MSP.Enrol Now! "Learn From Experts"