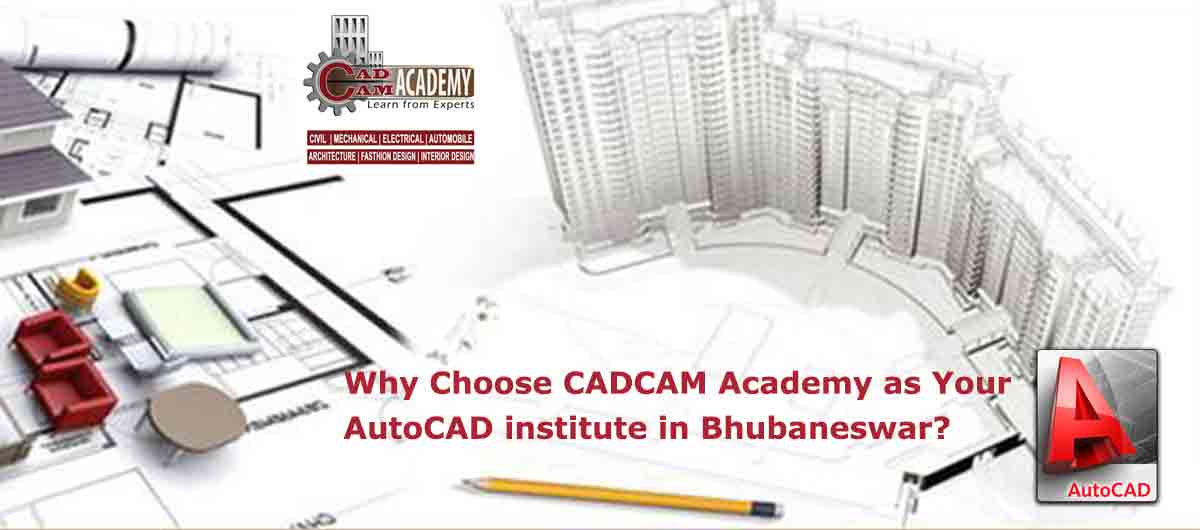 Why Choose CADCAM Academy as Your AutoCAD institute in Bhubaneswar?
Are you looking to embark on a rewarding journey in the world of Computer-Aided Design (CAD)? Do you want to master AutoCAD, the industry-standard software for architects, engineers, and designers? If your answer is yes, then you've come to the right place. CADCAM Academy in Bhubaneswar, Odisha, is the premier AutoCAD institute that can help you achieve your career aspirations and unleash your creative potential. In this article, we'll explore the reasons why you should choose CADCAM Academy as your AutoCAD institute in Bhubaneswar.
Excellence in AutoCAD Training
At CADCAM Academy, we take pride in our commitment to excellence in AutoCAD training. Our institute is equipped with state-of-the-art facilities and a team of experienced instructors who are passionate about teaching CAD. Whether you are a beginner or have some prior experience, our courses are tailored to meet your specific needs and skill level.
Our comprehensive AutoCAD courses cover everything from the basics to advanced techniques. You'll learn how to create 2D and 3D drawings, work with precision, and use AutoCAD's powerful tools efficiently. We believe in hands-on learning, so our students get ample opportunities to practice and apply their knowledge.
Industry-Relevant Curriculum
One of the key reasons to choose CADCAM Academy is our industry-relevant curriculum. We understand that the CAD industry is constantly evolving, and professionals need to stay up-to-date with the latest trends and technologies. Our courses are designed in consultation with industry experts to ensure that you acquire the skills and knowledge that are in demand in the job market.
Our AutoCAD courses cover a wide range of topics, including:
Drawing and editing techniques
3D modeling and rendering
Parametric design
Sheet sets and layouts
Collaborative tools and cloud integration
Customization and automation with AutoLISP
By the time you complete our AutoCAD program, you'll be well-prepared to tackle real-world design projects and excel in your career.
Experienced and Dedicated Instructors
Our team of instructors at CADCAM Academy is the backbone of our institute's success. They are not just educators but industry professionals with years of experience in using AutoCAD in practical applications. Their expertise and insights into real-world design challenges add tremendous value to your learning experience.
Our instructors are dedicated to your success. They provide personalized guidance, mentorship, and support throughout your journey at CADCAM Academy. Whether you have questions, need clarification, or want to explore advanced topics, they are always there to assist you.
State-of-the-Art Infrastructure
To excel in AutoCAD, you need the right environment and tools. At CADCAM Academy, we understand this, and that's why we've invested in state-of-the-art infrastructure. Our classrooms are equipped with the latest computers, software, and projection systems to facilitate effective learning. We also provide access to a library of resources, including textbooks and online materials, to supplement your learning.
Our labs are designed to mimic real-world design studios, ensuring that you're comfortable and confident when you transition into a professional work environment. We believe that hands-on experience is crucial, and our labs offer the perfect setting for you to apply your AutoCAD skills.
Placement Assistance
Choosing an institute is not just about learning; it's also about securing your future. CADCAM Academy goes the extra mile to help you kickstart your career in CAD. We offer placement assistance to our students, connecting them with job opportunities in renowned companies and design firms.
Our strong industry connections and partnerships enable us to facilitate internships and job placements. We believe in your potential, and our goal is to see you succeed in the CAD industry.
Flexible Learning Options
We understand that everyone has a unique schedule and learning pace. That's why CADCAM Academy offers flexible learning options. Whether you prefer full-time, part-time, or weekend classes, we have a schedule that suits your needs. You can also choose between classroom-based training and online courses, giving you the flexibility to learn from anywhere.
Affordable Tuition Fees
Quality education should be accessible to all. CADCAM Academy believes in making AutoCAD training affordable. Our tuition fees are competitive, and we offer various payment plans and scholarships to deserving students. We believe that your financial situation should not be a barrier to your education and career goals.
Join CADCAM Academy Today!
In conclusion, if you're looking for the best AutoCAD institute in Bhubaneswar, CADCAM Academy is your ideal choice. Our commitment to excellence, industry-relevant curriculum, experienced instructors, state-of-the-art infrastructure, placement assistance, flexible learning options, and affordable tuition fees make us the top destination for aspiring CAD professionals.
Invest in your future, unlock your creative potential, and embark on a successful career in CAD with CADCAM Academy. Contact us today to learn more about our AutoCAD courses and enrollment process. Your journey to becoming an AutoCAD expert starts here!
Don't miss out on this opportunity. Join CADCAM Academy and take the first step toward a rewarding career in AutoCAD today!
cadcam_pageuser
DESCRIPTION - Discover CAD-CAM-BIM Institute in Bhubaneswar,Odisha offer Autocad,staadpro,revit,sketchup,3dsmax,lumion,primavera,civil3D,arcgis,Qgis,catia,creo,solidworks,Ansys,MSP.Enrol Now! "Learn From Experts"