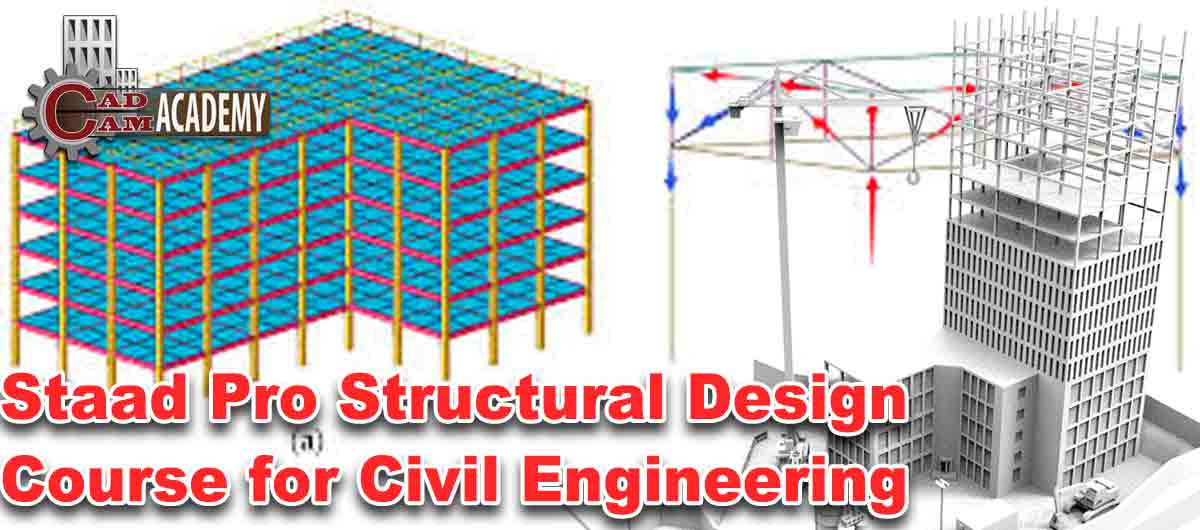 Staad Pro Institute in Odisha: Shaping the Future of Civil Engineering
Staad Pro Institute in Odisha: Shaping the Future of Civil Engineering
The field of civil engineering has always been at the forefront of innovation and development. It plays a crucial role in shaping the world we live in, from the design and construction of buildings and bridges to the development of infrastructure. In this era of technological advancement, one software tool has become indispensable for civil engineers – Staad Pro. If you're a civil engineering enthusiast in Odisha, Bhubaneswar, looking to master Staad Pro for structural design, you're in the right place. Welcome to CADCAM Academy, the premier Staad Pro Institute in Odisha, dedicated to shaping the future of civil engineering.
Why Choose CADCAM Academy in Bhubaneswar, Odisha?
Civil engineering is a dynamic field, and staying ahead of the curve is essential. CADCAM Academy recognizes this need and provides specialized training in Staad Pro, the industry-standard software for structural analysis and design. Here's why you should choose us for your Staad Pro training:
Experienced Faculty: Our institute boasts a team of highly experienced instructors with a deep understanding of civil engineering and Staad Pro. They bring real-world insights and hands-on expertise to the classroom, ensuring that you receive top-notch education.
Comprehensive Curriculum: Our Staad Pro course is meticulously designed to cover all aspects of structural design, analysis, and modeling. We provide a structured learning experience that equips you with the skills required for a successful career in civil engineering.
Hands-On Training: At CADCAM Academy, we believe that the best way to learn is by doing. That's why our courses include extensive hands-on training, allowing you to work on real-world projects and gain practical experience.
State-of-the-Art Infrastructure: We offer a conducive learning environment with state-of-the-art infrastructure and software resources. Our labs are equipped with the latest technology to facilitate an immersive learning experience.
Placement Assistance: We understand that your ultimate goal is to secure a rewarding job in the civil engineering industry. CADCAM Academy provides placement assistance to help you kickstart your career with the right opportunities.
The Significance of Staad Pro in Civil Engineering
Staad Pro is a powerful software application used by civil engineers to analyze and design structures, whether it's a high-rise building, a bridge, or a simple beam. This software simplifies the complex process of structural analysis and design, making it an essential tool for civil engineers. Here's why Staad Pro is a must-know for aspiring civil engineers:
Efficiency: Staad Pro significantly reduces the time and effort required for structural analysis and design. With its intuitive interface and automation capabilities, engineers can complete projects faster and more efficiently.
Accuracy: The software provides precise results, ensuring the safety and integrity of structures. It helps engineers identify and address potential design flaws before construction begins.
Versatility: Staad Pro can be used for a wide range of projects, from residential buildings to complex industrial structures. It is a versatile tool that adapts to the needs of different engineering projects.
Global Relevance: Staad Pro is widely recognized and used by engineering firms around the world. Learning this software opens up opportunities for civil engineers to work on projects globally.
Cost-Effective: By optimizing the design process and reducing the need for physical prototypes, Staad Pro can lead to cost savings in construction projects.
Course Highlights at CADCAM Academy
Our Staad Pro training program at CADCAM Academy in Bhubaneswar, Odisha, covers a comprehensive range of topics. Here are some of the course highlights:
Introduction to Staad Pro: Get acquainted with the software and its user interface, learning how to navigate through the various tools and features.
Structural Analysis: Master the art of structural analysis, understanding how to model different types of loads and conditions.
Design of Concrete Structures: Learn how to design reinforced concrete structures using Staad Pro, ensuring they meet safety and design standards.
Design of Steel Structures: Explore the design of steel structures, including the analysis and modeling of steel frames and members.
Project Work: Apply your knowledge to real-world projects and gain practical experience in structural design.
Certification: Upon completing the course, you'll receive a certification from CADCAM Academy, recognizing your proficiency in Staad Pro.
Why Staad Pro Training Matters
Aspiring civil engineers may wonder why specialized training in Staad Pro is crucial. Here's why:
Industry Demand: Many engineering firms are actively seeking professionals with Staad Pro skills. By acquiring this expertise, you enhance your employability.
Career Advancement: Staad Pro proficiency can significantly boost your career prospects, leading to higher-paying positions and more significant responsibilities.
Efficiency and Accuracy: Staad Pro makes your work as a civil engineer more efficient and accurate, ensuring that your designs meet industry standards.
Global Opportunities: Staad Pro is widely used globally, allowing you to explore career opportunities worldwide.
Your Future in Civil Engineering Starts Here
At CADCAM Academy, our Staad Pro Institute in Odisha, Bhubaneswar, we're committed to empowering the future of civil engineering. We understand the evolving needs of the industry and equip our students with the knowledge and skills they need to excel. Join us, and embark on a journey to shape the world through innovative civil engineering designs.
Conclusion
In the world of civil engineering, staying up-to-date with the latest tools and techniques is essential. CADCAM Academy, as the leading Staad Pro Institute in Odisha, Bhubaneswar, offers the perfect platform to advance your civil engineering career. With our experienced faculty, comprehensive curriculum, and hands-on training, you'll be well-prepared to tackle the challenges of modern structural design. Don't miss this opportunity to shape the future of civil engineering – enroll in our Staad Pro course today and take the first step towards a successful career in civil engineering. Your journey begins here, at CADCAM Academy in Bhubaneswar, Odisha.
cadcam_pageuser
DESCRIPTION - Discover CAD-CAM-BIM Institute in Bhubaneswar,Odisha offer Autocad,staadpro,revit,sketchup,3dsmax,lumion,primavera,civil3D,arcgis,Qgis,catia,creo,solidworks,Ansys,MSP.Enrol Now! "Learn From Experts"